Discover Brunswick Heads: Things To Do In Brunswick Heads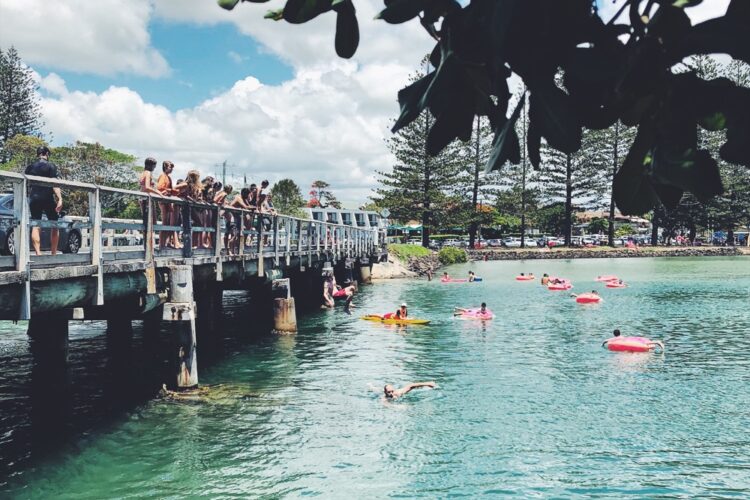 At the mouth of the Brunswick River, Brunswick Heads was a busy port and a bit of a commercial hub back in the late 19th Century. Now, it's more about the Simple Pleasures.
By largely avoiding the development that some of the surrounding areas have experienced, Bruns, as the locals call it, absolutely nails that quiet seaside village vibe. Think timber bridges, oyster farms and a small, idyllic harbour. This is definitely a place where life slows down and time widens out. With the Littoral Rainforest to the north, and Mount Chincogan and Mount Warning providing the hinterland backdrop along the river, it's a pretty special spot — and the best news is that it's just a short 20-minute drive from us.
Image source: The Urban List
Hotel Brunswick, or Bruns Pub, as it's better known, is a lovely spot for a couple of cold ones. Overlooking the river, with a big beer garden and pouring its own Classic Brew (and some other locals, among more), it's a pretty easy place to while away an afternoon or evening. You may even catch some live local music if you're lucky.
Image source: Lisa Atkinson Photographer (IG @lisaatkinsonphotographer)
At the other end of the spectrum, Fleet is a spectacular fine dining experience with 3-month booking releases that sell out in minutes. So it's one of those dining destinations that you plan a trip AROUND, rather than drop in whilst you're in the area. Seating just 22 people, the menu (with all the creativity you'd expect from two-hatted restaurant experience) changes according to the season, and to the tastes and requirements of the diners. The menu isn't the only thing that feels bespoke and intimate — handmade stoneware, a feature concrete bench and Tasmanian Oak stools have all been crafted locally, making this a tiny destination with a big impact.
Sand, surf and sun goes like a dream with Mexican flavours and that's exactly what La Casita dishes up. A range of tacos, snacks and sides can be accompanied by a good selection of cocktails, beer, wine — or try something from the dedicated agave spirits menu.
Bruns is home to an excellent (patrolled) surf beach, and for a quieter experience, there's Torakina Beach at the mouth of the Brunswick River. This small and safe (man-made) nook is largely protected from the wind, practically swell-free and framed by beautiful bushland. Perfect for a lazy dip or paddle in the shallows.
As a legitimate seaside village, and as host to the Fish 'n Chips Festival (in 'normal' times, anyway), Bruns is the perfect place to grab yourself an old-fashioned takeaway fish and chips. There are plenty to choose from and Hoopers is a local favourite with a great location overlooking the river, whilst many locals have grown up getting their fish & chip fix from the Starfish Cafe.
Image source: Hooper's: Burgers + Fish & Chippery
For decades, Bruns locals have been jumping at high tide from the old timber South Beach Road Bridge into the usually clear waters of the Simpson's Creek below. This 3–4m drop is considered to be a rite of passage amongst locals, however, it's also a great spectator sport to watch from the safety of the riverbank (maybe with some of those fish n chips!).