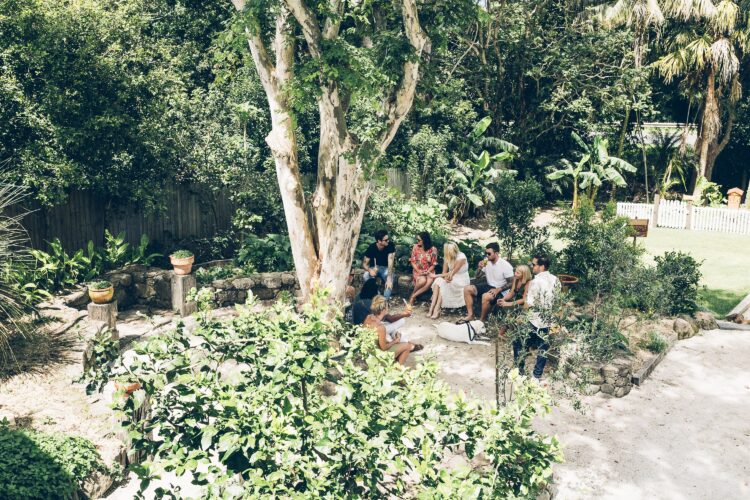 Drive 25 minutes south on the Pacific Highway from Mullum and you hit Newrybar, where we recommend you pause and take a deep breath of that fresh country air amongst the wooded farmland and windy roads. This is the fertile agricultural centre of the region, with macadamia and fruit farms, coffee plantations and cane fields giving it a wholesome vibe that also characterises its award-winning restaurant, Harvest. Throw in some great local retail and the natural beauty of both coastline and inland waterfalls — and you've got yourself a perfect little day trip.
Image source: Newrybar Merchants / visitbyronbay.com
Restaurant, bakery, deli, accommodation, wedding venue — Harvest wears many hats, all of them well, so it's no wonder it's such a drawcard for the town. The award-winning dining options are versatile enough that you can taste some local produce no matter the time of day, season and budget. All offerings are seasonal, local and sustainable, with native ingredients from the edible garden playing a key role in the dinner menu, served in a 100-year-old converted farmhouse.
A collective of local artisans curated with just the right touches, this retail experience hits all the right notes, where crafted goods for the home mingle with gourmet pantry items and delicious skincare and beauty products. Housed in an original 1890s dwelling with a timeless, rustic charm, Newrybar Merchants epitomises the feel-good appeal of the town and its quality local items.
This boutique retail store has been supporting local labels, as well as intriguing brands from further afield, for more than a decade and is definitely worth a look. You'll find all the things you need (for woman, man and child) to kit up in the effortlessly luxurious style of the region — from easy denim to handwoven fibre shoes and everything in between.
Head ocean side and you'll discover walking tracks along the headland, whale watching, fishing, and spectacular surf beaches at Broken Head and the surrounding back beaches like Whites Beach and Kings Beach. There's plenty of birdlife to spot, from local brush turkeys to more rare species like the green, purple and yellow wompoo fruit-dove. And a coastal rock formation called Three Sisters, or Cocked Hat Rocks, is an important cultural site for the local Indigenous Arakwal people, which tells a warning story about the strength and danger of the currents here.
Just an 8-minute drive from Newrybar is an idyllic big scrub rainforest complete with a 10-metre cave waterfall that spits out of Emigrant Creek. At the top, a boardwalk will take you to a lovely lookout, and below, a shallow swimming hole that feels just wild enough and still very accessible. This makes it a pretty popular spot for the crowds, so your best bet to dodge them is an early sunrise swim.